Ex-soldier died after inflatable kayak capsized on lake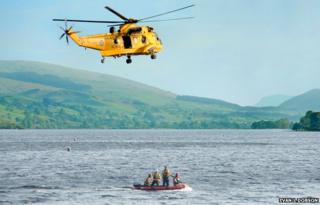 A coroner has branded inflatable kayaks "inherently dangerous" following the death of a former soldier who drowned in Gwynedd.
Paul Davies, 34, from Runcorn, who had served with the Cheshire Regiment, died in Bala lake in May.
He had been in the boat with a friend and his friend's young son when a gust of wind caused the boat to capsize.
Coroner Dewi Pritchard-Jones told the inquest in Caernarfon Mr Davies died because of an accident.
The inquest heard the group had gone to the lake for a barbeque. Neil Wainwright's girlfriend also went and saw the tragedy from the shore.
'Disappeared under water'
Giving evidence, Mr Wainwright said he and Mr Davies tried to stop the boat from turning over in the wind, but failed.
Carrying his son on his back, Mr Wainwright swam back to the shore.
He saw Mr Davies in the water trying to scramble back into the inflatable but he could not get his grip, and disappeared under the water.
Search and rescue teams found his body the following day.
Mr Pritchard-Jones said the men were not wearing buoyancy aids and protective clothing and had not taken "the most basic of precautions".
He said vessels like the one Mr Davies had been in and other such "blow-up boats are inherently dangerous".