Plas Tan y Bwlch replanting begins after February storms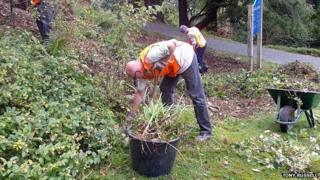 It will take about three years to restore historic gardens in Snowdonia damaged by 100mph (160km) winds in February, say bosses.
The debris and damage has now been cleared at Plas Tan y Bwlch in Gwynedd with the site reopening in August.
Now, the restoration and replanting can get under way in earnest, said Snowdonia National Park Officials.
The Grade II-listed estate near Penrhyndeudraeth is a Site of Special Scientific Interest (SSSI).
Plas Tan y Bwlch head gardener Chris Marshall told BBC Wales the gardens looked like "a scene out of a disaster move" after the storms hit.
"I'm very grateful to all who have helped so far," he said.
"With their help in getting the ground ready, the first batch of new plants and trees will be planted this autumn."
The Victorian estate was the home of the Oakeley family, who owned the slate quarry at Blaenau Ffestiniog.
The mansion is set in 13 acres of parkland and surrounding woodland.
The gardens were originally laid out by John Roberts in the 1880s, but some of the large Himalayan rhododendron trees are believed to be nearly 200 years old.
Garden consultant Tony Russell, who has been advising the authority on the restoration, said: "Wherever possible, we are replacing the original Victorian plants with similar species, but also taking into account modern-day climate change, conservation and bio-diversity issues."