Hollie Robinson loses father murder appeal bid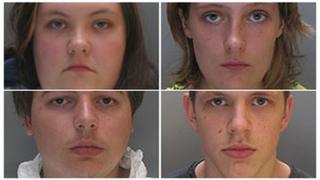 A Colwyn Bay woman who teamed up with others to kill her own father in a knife attack must accept her murder conviction, top judges have ruled.
Antoni Robinson, 61, was stabbed to death after his teenage daughters, Hollie and Ashleigh, forced their way into his home with their boyfriends.
Hollie Robinson, now 20, was jailed for 18 years at Mold Crown Court in 2011.
Three senior judges rejected a belated bid by Robinson to clear her name, saying there was "no justification".
At London's Appeal Court, Lord Justice Davis said Robinson was 16 when she and her then-19-year-old sister, Ashleigh, and their boyfriends - Gordon Harding and Sacha Roberts - got into Mr Robinson's bungalow in the early hours of a July morning in 2010.
The judge rejected Robinson's application for a full appeal hearing.
The group were hunting for jewellery at the centre of a spat between Robinson's mother, Joanne Barr, and her father.
However, after disturbing Mr Robinson in bed, Harding stabbed him repeatedly with a knife in a fatal attack.
All four were convicted of joint-enterprise murder.