Richard Carter, thought to be Wales' oldest poppy seller, turns 100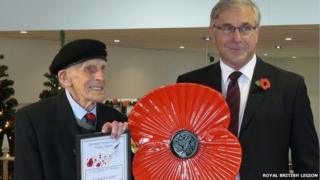 The man thought to be Wales' oldest Royal British Legion fundraiser celebrates his 100th birthday on Sunday ahead of the 2014 poppy appeal.
This campaign has particular significance for Richard Carter from Dwyran, Anglesey, as it marks 100 years since the start of World War One.
Mr Carter was born in 1914 and served for six years in World War Two as an anti-aircraft gun operator.
For the past 20 years he has been raising money for the poppy appeal.
When Mr Carter - who lost his older brother in the conflict - was born, British troops were embarking on the Battle of Ypres.
He said he is selling poppies as much for recent servicemen as for the veterans of the two world wars.
"It's more for the lads who've come back from Iraq and Afghanistan missing arms and legs", he said.
"The equipment and support they need to get their lives back on track is so expensive that we need every penny we can raise."
Mr Carter first volunteered as a fundraiser when he noticed that two ladies who used to call door-to-door in Dwyran had not visited for a few years.
"I thought 'well if no-one else is going to do it, then I'd better do it myself'," he said.
"I used to go around collecting on my bicycle.
"These days my brains quite active but my feet aren't so willing, so my daughter has taken over picking up the collection boxes but I'm still on the end of the phone organising it."
The Anglesey Royal British Legion held a celebration in honour of Mr Carter's milestone birthday this week.