Reversing car smashes shop door in Holyhead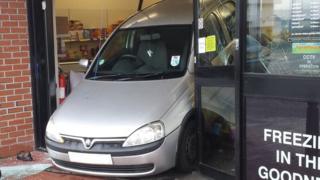 A car has reversed through a supermarket door in Holyhead while customers were shopping.
The vehicle smashed through the glass doors at Farmfoods in Anglesey at around 11:00 GMT on Saturday morning.
The car was driven by an elderly lady, it was reported in the Daily Post.
Adie Roberts, who works at the supermarket, said: "All I heard was noise...I thought someone had dropped something and then I saw there was a car in the shop."
No injuries were reported and Farmfoods reopened the next day.