Waste blue slate in Gwynedd inspires sculpture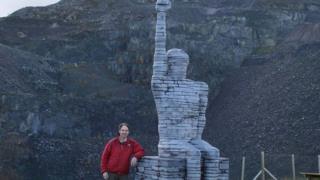 An artist inspired by blue slate in Gwynedd has spent two months sculpting a statue in tribute.
Peter Barnes, from Llanbedr y Cennin, put together the figure of a man raising his fist in the air over seven weeks at Penrhyn Quarry near Bethesda
Entitled Celebrating Blue Slate, Mr Barnes used waste slate to permanently create "something of value".
"I was rambling and was inspired," he said. "It's trying to express a joy in the wonderful material that slate is."