Bangor University: Lung disease fear for cannabis users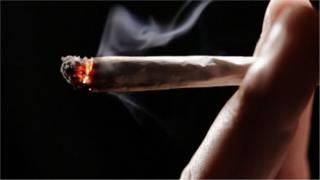 Regular use of cannabis mixed with tobacco is leaving young adults with "lungs of 80-year-olds", warn experts.
Researchers believe the use of modern cannabis, which is much stronger than in the past, could lead to a rise in severe lung disease.
A Bangor University study found some hospital patients in Gwynedd who had an accelerated form of emphysema were in their 30s.
They had smoked five cannabis joints a day or more for at least a decade.
Emphysema, a debilitating condition in which the air sacs of the lungs are damaged and enlarged, is mainly caused by tobacco use and has historically affected people later in life.
'Tip of iceberg'
But the researchers think the lungs may become damaged more quickly in cannabis users who smoke the drug with tobacco.
Dr Damian Mckeon, a consultant in respiratory medicine at Ysbyty Gwynedd and honorary senior lecturer at Banger University, said: "We are seeing young people on the wards with lungs of 80 year olds after less than a decade of smoking cannabis and tobacco.
"Our study was in a rural region of north Wales but we believe these cases may represent the tip of the iceberg."
The findings have been presented to medical professionals at the British Thoracic Society's winter conference.
Dr Bernard Higgins, chairman of the society's executive committee and a consultant lung specialist at the Freeman Hospital in Newcastle, said "This study is yet another small but persuasive piece of a jigsaw pointing to a real danger of regularly smoking joints."