Water works responsible for environmental damage to lake, report finds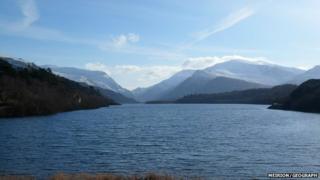 Welsh Water's treatment works at Llanberis was responsible for environmental damage at Llyn Padarn in Snowdonia, an investigation has found.
Natural Resources Wales found it contributed to an algal bloom in 2009, which saw the lake closed as a safety precaution.
But it did not impact its Arctic charr fish population, which has been in decline since 2007.
Welsh Water said it had invested £2.5m at the works to improve water quality.
This is the second investigation into damage at the lake after a further inquiry was ordered following a judicial review earlier this year.
The original investigation, completed in July 2013, looked at environmental damage from 2009.
The subsequent re-investigation looked into damage caused since April 2007.
Mitigating measures have since been put in place, but the latest findings will require further action.
A spokesperson for Welsh Water said: "Since 2010 we have invested £2.5 million at the works and continue to drive improvements in the water quality of Llyn Padarn, which has included meeting the tighter standards set by Natural Resources Wales.
"This has helped the lake meet the water quality standards necessary to be awarded bathing water status by the Welsh government - making it Wales' first designated freshwater bathing lake."
Considered an important part of the local economy, Llyn Padarn is home to iconic fish species the Arctic charr, which has been in decline for a number of years.
Natural Resources Wales has since set up a breeding programme to increase the numbers at the lake.