Last weekend for specialist blind hotel in Llandudno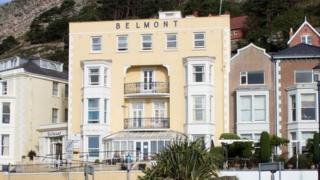 A hotel, said to be the last in Wales and England to cater exclusively for blind guests, will close on Monday.
The Royal Blind Society (RBS) said it can no longer afford to keep open the Belmont hotel in the seaside town of Llandudno, Conwy.
It said only a small number of the 27 rooms are used throughout the year as new regulations have made mainstream hotels more accessible to blind people.
The Belmont has been sold to a private hotelier.
It will be refurbished before reopening as a mainstream commercial hotel.
Eileen Harding, RBS chief executive, said: "We tried to keep the hotel open for as long as possible, but the sad fact is that only 10% of our rooms are used throughout the year and we are unable to afford the huge ongoing costs.
"Everyone at RBS understands that the hotel is a special place for our guests and we are glad that many have been able to enjoy a stay in the last few months and especially for the Christmas and new year festive breaks."
Another RBS hotel, the Bradbury in East Preston, West Sussex, closed in 2014.
Money raised by the hotel sale will go towards supporting blind children and young people and their families.