Gwynedd hairdresser wants to trace mystery poet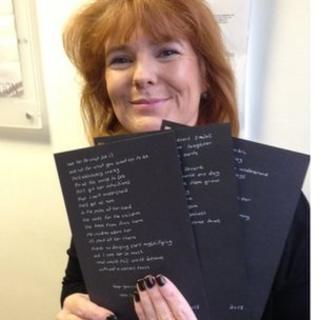 Workers at a north Wales hairdressing salon are hoping to trace a poet who has been brightening their days with verse for the past two months.
Staff at Elaine's in Penygroes, near Caernarfon, have received five unprompted poems signed by 'The composer Mark Jones' since November.
It echoes an almost identical case in Lancashire in 2011.
Stylist Glenda Evans said: "I like to see them coming - it makes my day to be honest."
The poems, written in silver pen on black card, have a Lancashire post mark but have not been accompanied by any explanation.
Ms Evans added: "It's a bit of a joke by now, the postman comes in with a brown envelope and says, 'you've got another one' and the customers then want to see and we all read them and think who is he, why us?
"We can't find anything about the man, so if anyone has any information we'd like to know".
Although the subject of the poems vary, each finish with the line "keep your chin up and keep smiling".