70 dolphins photographed off Anglesey coast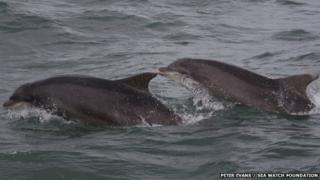 Up to 70 dolphins have been spotted off the east coast of Anglesey.
They were photographed near Red Wharf Bay on Monday by Dr Peter Evans, director of marine conservation research charity, Sea Watch Foundation.
It is thought some had travelled up from Cardigan Bay to winter in the deeper waters of north Wales and further afield when they are seen in larger numbers.
Conservation volunteers recognise them by unique markings on their fins.