Ferry damaged by barge collision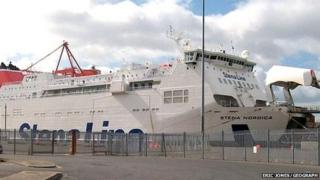 A Stena Line ferry has been taken out of service after a barge collided with it and damaged the hull.
Crew and passengers were on board the Stena Nordica ship when the incident happened while it was berthed in Holyhead harbour on Anglesey on Sunday.
Stena said no-one was injured, the ship was being repaired and they hoped it would resume service on Thursday.
The Marine Accident and Investigation Branch is gathering information and will decide whether to investigate.