£2.7m heritage cash for Dolgellau and Holyhead towns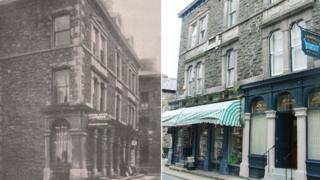 A historic town centre in Gwynedd and a seafaring port town's shopping streets on Anglesey are set to get a £2.7m restoration boost.
Some of the 180 listed buildings in Dolgellau have won £1.1m in funding, with £1.6m on its way to Holyhead.
The Gwynedd cash will help preserve three of the town's squares, while on Anglesey, the council hopes to recreate lost structures using archive photos.
The cash is all part of the Heritage Lottery Fund's Townscape project.
"We want to help provide an economic boost to both Dolgellau and Holyhead, helping them to work with small businesses and communities to protect and bring alive their distinctive heritage and buildings," said Jennifer Stewart, head of the HLF in Wales.
"These buildings make up the very fabric of history."