Oil spill in Anglesey's Afon Alaw river is investigated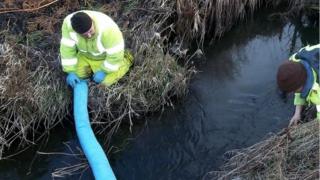 An investigation has been launched after oil was found in the Afon Alaw river on Anglesey.
Natural Resources Wales (NRW) has identified the source of the spill and placed booms in the river to stop it heading further downstream.
The river feeds into the Llyn Alaw reservoir and supplies drinking water to half of Anglesey.
A spokesman for Welsh Water said the spill had no impact on the reservoir or water supply.
Richard Berry, of NRW, said officers were conducting a "full assessment" to help determine the impact on wildlife.
Environmental health officers from Anglesey council and officers from Dwr Cymru Welsh Water have also been to the scene.