Money seized at Holyhead port forfeited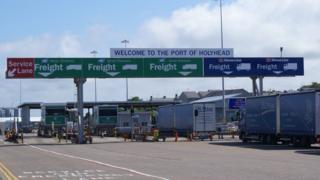 A court has turned down an application by an Irish businessman accused of being part of a gang suspected of stealing valuable Chinese artefacts to have €60,000 (£44,000) returned.
Richard O'Brien, 58, of Rathkeale, Limerick, was arrested in connection with a conspiracy to commit burglaries.
Police had seized the money in January 2013 at Holyhead from Mr O'Brien claiming there was a link with criminal activities by others.
The judge ordered the money forfeited.
The court in Llandudno was told Mr O'Brien had not been charged in connection with the alleged conspiracy, which included a plot to commit burglaries across the UK including at Fitzwilliam Museum in Cambridge where 18 items of Chinese jade worth £15m were stolen in 2012.
District judge Gwyn Jones said Mr O'Brien had set up a legitimate business importing furniture from China into Britain and Ireland.
However he ruled no plausible explanation supported by documents had been provided to show the euros were from a legitimate source, and he was satisfied there was a link to crime.
As well as forfeiting the money, Mr O'Brien was ordered to pay £2,000 police costs.