Mystery cause of Ashley Hazelwood's air crash death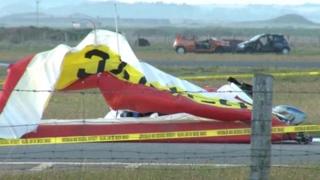 The cause of a crash which saw a microlight aircraft plunge to the ground after take off and kill its student pilot remains a mystery.
Ashley Hazelwood, 61, of Kinmel Bay, Conwy, took off to fly circuits at Caernarfon airfield when the crash happened last May.
An inquest into his death heard he was a healthy man and coroner Dewi Pritchard-Jones said he could "make no finding of why this aircraft crashed".
His conclusion was accidental death.
'Very healthy'
The Caernarfon hearing was told Mr Hazelwood's aircraft climbed to 200ft then banked to the left before crashing.
Mr Pritchard-Jones said: "When I first read the evidence I was convinced there was a medical reason this aircraft crashed, something traumatic must have happened to the pilot.
"But the post-mortem examination shows he was a very healthy man.
"The evidence of how the aircraft was flown doesn't provide any explanation of why the pilot didn't correct the leftwards turn of the aircraft. I can make no finding of why this aircraft crashed."