Conwy farmer introduces rare pedigree Luing cattle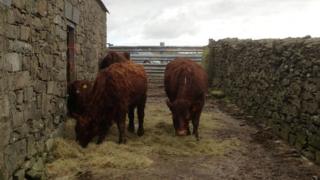 A farmer in Conwy is one of the first in Wales to keep a rare type of cow.
Luing cattle are common in Scotland but almost unheard of in Wales.
Farmer Iwan Davies said they are well suited to the mountain areas he farms at Glasfryn near Cerrigydrudion because they enjoy the poor quality grass and do not mind bad weather.
Mr Davies markets the meat, which has been praised by chefs for its extra streaks known as "marbling".
He told the Jason Mohammad programme on BBC Radio Wales: "The name comes from the Isle of Luing, which is off the west coast of Scotland.
"About fifty years ago, two brothers there started this new breed of cattle.
"They're a cross between Highland cows with their rusty red shaggy coats, and a breed called the shorthorn.
"But they're very, very hardy, and ideally suited for the wild winter weather on the upland areas round here."
Mr Davies' wife, Eleanor, has taken a break from her job as a university lecturer to help her husband develop his business.
She said: "When I first heard the word Luing, I thought it sounded a bit Chinese.
"But they've cut our workload tremendously. They're out in all weathers on the mountain, and we basically need to check on them and take them a bit of silage."
The couple plans to expand the business to pack and cook some of the meat on site.