Project launched to boost Gwynedd's red squirrel numbers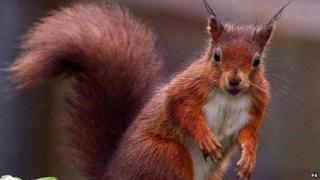 Conservationists are working to boost red squirrel numbers in north Wales.
There were fewer than 40 adult red squirrels on Anglesey 18 years ago but now, largely down to a major cull of grey squirrels, numbers have grown to more than 700.
Community groups on Anglesey will now advise residents in Gwynedd on ways to improve woodland habitats, erect nest boxes and monitor populations.
Anglesey has the largest single population of red squirrels in Wales.