Anglesey chosen as the start for Tour of Britain 2015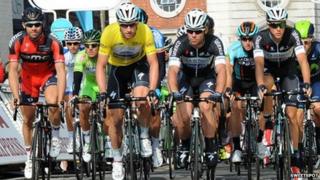 Anglesey has been chosen as the host venue for the opening stage of the 2015 Tour of Britain on 6 September.
The world's top cyclists will complete a stage from Beaumaris to Wrexham, marking the first time the race has started in Wales in its modern history.
The tour finishes in London on 13 September after taking in stages in Scotland, Cumbria and Norfolk.
The event often attracts the sport's elite, including former world road race champion Mark Cavendish.
The Tour of Britain is regarded as British Cycling's premier road cycling event.
It gives cycling fans the opportunity to see the world's best teams and riders competing on their door step.
Anglesey Councillor Aled Morris Jones called it "a huge coup for the island".
He said: "The Tour of Britain will provide us with a massive opportunity to showcase Anglesey and all it has to offer to visitors and a world-wide audience."
---
The Tour of Britain 2015
Stage One: Sunday, 6 September, Beaumaris, Anglesey to Wrexham
Stage Two: Monday, 7 September, Clitheroe to Colne
Stage Three: Tuesday, 8 September, Cockermouth to Floors Castle, Kelso
Stage Four: Wednesday, 9 September, Edinburgh to Blyth
Stage Five: Thursday, 10 September, Prudhoe to Hartside Fell
Stage Six: Friday, 11 September, Stoke-on-Trent to Nottingham
Stage Seven: Saturday, 12 September, Fakenham to Ipswich
Stage Eight: Saturday, 13 September, London
---