Woman jailed for trying to rob man, 84 on Llandudno bus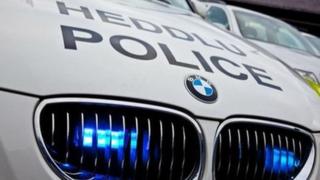 A woman has been jailed after trying to rob an 84-year-old man on a bus in Llandudno.
Samantha Smith, 44, of no fixed address, was found guilty by a jury of the attempted robbery on 20 September.
Mold Crown Court heard the pensioner offered to help Smith after she cried and said she had problems. He attempted to give her £10, but Smith demanded the remaining £40 in his wallet.
The judge, Mr Recorder Timothy Petts, jailed her for 20 months.
The court heard Smith was on an X5 bus sitting in the back seat in an upset and distressed condition.
The 84-year-old man - who suffered from Parkinson's disease - took pity on her.
He tried to comfort her, sat next to her, and when he heard about her problems he took his wallet out intending to give her £5.
But he only had a £10 note so he gave her that instead.
Smith saw that he had another £40 in the wallet and told him she wanted that as well.
The judge said: "He showed you nothing but kindness and charity."
Other passengers intervened and one of them told the driver what was going on.
The court heard Smith had previous convictions for 79 offences and had a previous conviction for robbery, although that was about 20 years ago.