Williams family lose appeal to save Cwm Pennant farm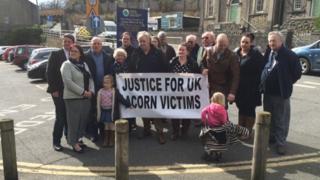 A Gwynedd farming family are to lose their home after getting into debts of over £3m.
Alun and Mary Williams from Cwm Pennant got into difficulty after taking out a short-term loan with a farm finance company called UK Acorn Finance (UKAF).
UKAF won a court judgment last July to repossess the farm. On Thursday, Mrs Williams lost an application for the right to appeal against that ruling.
The family took out a £1.2m loan in 2011 which, they say, rose to £3.1m.
In the hearing last July, His Honour Judge Milwyn Jarman found that Mrs Williams had received independent advice which was required by UKAF before signing any documents.
Mr and Mrs Williams' sons are the fifth generation of the family to farm at Rhwngddwyafon, a 600 acre (242 hectare) sheep and beef farm in the heart of Snowdonia.