Caernarfon newspaper office to close, publisher confirms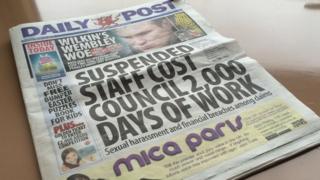 Trinity Mirror will close the offices of the Caernarfon and Denbigh Herald and move staff to the North Wales Daily Post base in Llandudno.
Nine journalists will be relocated in total, with Runcorn and Widnes Weekly News staff also moving to Liverpool.
The company said reception and advertising jobs are at risk.
The offices being closed currently house Daily Post, Caernarfon and Denbigh Herald, Bangor and Holyhead Mail and Yr Herald journalists.