Permanent traveller and gypsy site in Conwy approved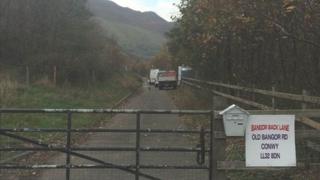 Plans for a permanent gypsy and traveller site in Conwy have been approved by councillors.
Conwy council gave the green light to land at Bangor Old Road being used as a permanent residential base at a meeting on Wednesday.
The site currently has three caravans belonging to traveller families.
The new scheme will create four plots with each one providing facilities for a static caravan, a touring caravan, a shed and two parking spaces.
The land is owned by the Welsh government, but is expected to be transferred to Conwy council as part of the development.
A housing association is expected to manage the site.