Caernarfon newspaper office closure protest by journalists' union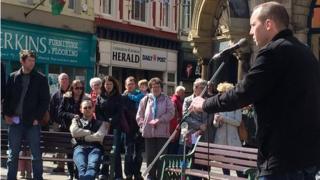 About 100 people attended a rally over plans to close a newspaper office in Gwynedd.
Bosses at Trinity Mirror said the decision to shut its Caernarfon office would have "no impact" on editorial staff or its local newspaper titles such as Caernarfon & Denbigh Herald.
But the National Union of Journalists (NUJ) said it would be a "massive blow to the town and local democracy".
The company said it wanted to invest in its services, not "outdated" buildings.
Journalists' website HoldtheFrontPage has reported staff will move to the offices of the North Wales Daily Post at Llandudno Junction, Conwy county.
A Trinity Mirror spokesperson said: "We remain firmly committed to regional media and our titles in this area are very important parts of our portfolio.
"In this day and age, many businesses are seeing there is less requirement for physical regional offices and we are no different as journalists work in the communities and remotely much more."