Stone Age Blodwen returns to Llandudno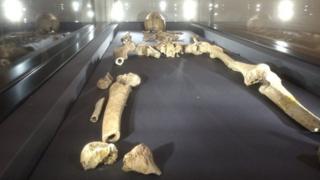 The skeleton of a Neolithic woman has been officially unveiled to mark her return to Conwy county about 5,500 years after her death.
"Blodwen" was found on Llandudno's Little Orme in 1891 and ended up in Lancashire near the home of the quarry owner who found her.
A long campaign to see her returned has come to fruition with funds raised to open a dedicated exhibit space.
Llandudno Museum is hosting a special exhibition starting from Thursday.
Research of the bones suggest Blodwen, who died after falling down into a vertical fissure in the rocks, was aged between 54 and 63.