Workers at 2 Sisters' factory reject vote to safeguard jobs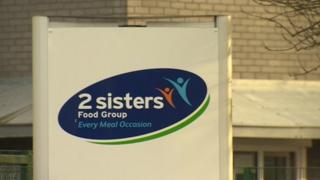 Staff at an Anglesey poultry plant have voted to reject changes to their working conditions in a move which would have saved 50 jobs.
They voted four to one to refuse proposals at the 2 Sisters factory at Llangefni where 270 jobs are under threat, including 170 agency staff.
Before the vote, Paddy McNaught from Unite union said it would have meant "staff making sacrifices" to save jobs.
Union officials are due to hold further talks with bosses on Friday.
If the company's proposal had been accepted, it was hoped there would be only a handful of compulsory redundancies, with 40 staff taking voluntary redundancy and agency workers being offered work elsewhere.
The company wanted to cut an entire production shift from its operation.