Digital archive seeks WWI memorabilia in north Wales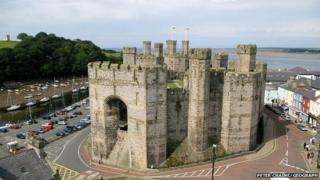 A unique campaign aimed at digitalising photographs, letters and diaries of World War One soldiers is set to visit north Wales for the first time.
Families have been asked to bring the memorabilia to the Never Forget Your Welsh Heroes roadshow on Saturday.
Held at the Royal Welch Fusiliers Museum in Caernarfon Castle, the items will be added to a national online archive.
More than 10,500 Royal Welch Fusiliers soldiers were killed in WW1.
Campaign manager Will Loram said: "This is probably the last chance to find these treasures in the family papers, before they become lost or are thrown away as not being important."
Families will be able to scan the memorabilia or create a video of themselves reading the letters or diaries.