Coed y Brenin forestry worker airlifted to hospital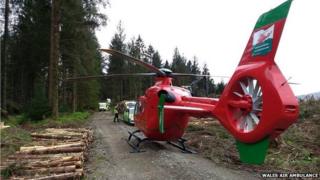 A forestry worker has been airlifted to hospital by the RAF after suffering multiple injuries in an accident.
The ambulance service and a crew from Wales Air Ambulance were called to the incident in the Coed y Brenin forest, north of Dolgellau in Gwynedd, at lunchtime on Tuesday.
The RAF was called in to help with the rescue in the remote forest.
A spokesman for RAF Search and Rescue said: "He was working in the forest when a tree sprung back at him."
The injured man is thought to have broken a leg and an arm and may have fractured ribs.
The spokesman said he was winched aboard their Sea King helicopter and flown to Ysbyty Gwynedd, in Bangor.