60,000 tonnes of gravel taken from river to protect homes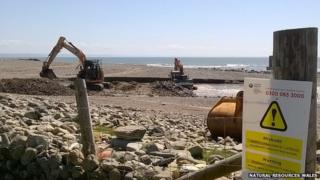 Work is being carried out to protect flood-threatened homes by removing 60,000 tonnes of gravel from a river.
The gravel has blocked the flow of the River Dysynni, in Gwynedd, meaning water levels have risen.
Natural Resources Wales is carrying out the work over five days to protect 26 properties in Tywyn.
The Dysynni was cleared in 2012, but a mixture of climate change, winter storms and high tides mean it has blocked again.