Snowdonia river bridge 'ugly', conservation group claims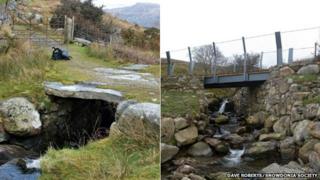 A new bridge across a Snowdonia mountain brook is "ugly over-engineered lumps of concrete and steel", a conservation group has claimed.
The bridge, spanning the Afon Goch above Llanberis, replaced a "clapper" bridge which was washed away in storms in 2012.
Snowdonia Society said Gwynedd council had built a "totally inappropriate" white elephant.
The council said this was the first complaint since its 2014 installation.
Officials at the Snowdonia Society said they had been contacted by walkers angered by the new bridge, which is on the lower slopes of Moel Eilio.
"The result is a bridge that is totally inappropriate and over the top," said the charity's director, John Harold.
"In quiet places like this in the national park, we need simple low-key and low-cost solutions, not ugly over-engineered lumps of concrete and steel.
"To make matters worse, if Gwynedd council had designed something simpler and cheaper it wouldn't have taken so long to replace the old bridge."
A Gwynedd Council spokesperson said: "The new bridleway bridge which has been in place since March 2014, followed a period of 18 months closure due the damage caused during the November 2012 storms.
"We have received no concerns regarding the bridge until recent reference on the Snowdonia Society website.
"The bridge, which was rebuilt at a cost of £48,000, forms part of a public bridleway and was built to meet national agreed standards."