£25m sea 'kite' energy project launched off Holyhead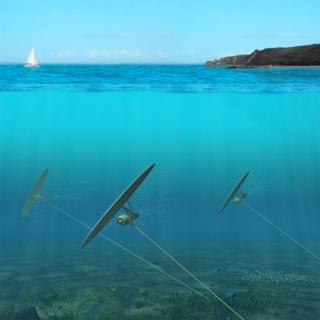 A £25m tidal energy project which works through moving "kites" underwater is being launched on Anglesey.
Swedish firm Minesto wants to harness power under the sea off the coast of Holyhead.
It will set up its UK offices there and hopes to become a manufacturing centre, creating more jobs there.
The so-called Deep Green technology works on the principle that underwater "kites" can reach speeds 10 times faster than the current.
This works in the same way a kite flies faster than the wind, and the firm says 10 times higher speed gives 1,000 times more power.
Off the coast, the Deep Green device will operate at least 15m below the surface and can still create enough power to make it worthwhile, even though the current is of a low velocity.
Minesto has secured £9.5m of EU funding and will create 30 jobs. The rest of the money will be privately raised.
Development rights were granted a year ago.
It will be two years before the first seven tonne device will be installed.
The Welsh government said it has been working with Minesto "over a number of years" on feasibility studies for the development.
ANALYSIS by Sarah Dickins, BBC Wales economics correspondent
It's another example of a company wanting to generate energy and money from our seas. But this is a different technology and doesn't involve building a lagoon.
There are some similarities to the planned £850m Swansea tidal lagoon project in that this is not just about generating energy but also creating jobs in manufacturing and project development, as the technologies will be made here.
It could lead to a new industry in its own right.
This project once again produces the dilemma: does it make economic sense in the long term to pay much more for our electricity as a new technology develops with the promise of jobs and investment, or is that too much of a risk?
This latest project hopes to be paid £250 per megawatt hour for its electricity initially while the new industry develops. The company says it expects to in time be cheaper than nuclear, which is less than £100 per Mwh, without the risk or waste.
The tidal lagoon project for Swansea Bay hopes to get £168 per Mwh.
Both the proposals for tidal kites on Anglesey and the tidal lagoons are about more than energy generation. Both promise to develop new design and manufacturing in Wales which could be exported.
There has been criticism in the past that Wales missed out on the development of onshore wind projects and now turbines and blades are largely imported into the UK.
This could make the proposals more valuable to the Welsh economy than purely the money generated by the power of the tides.
Minesto's plans are to set up headquarters in Holyhead this year, where design, marketing and sales will take place followed by manufacturing in 2016.
It hopes that by 2019 it will be employing 120 people in a wide range of jobs from engineering, sales, and research and development as a new industry forms around Holyhead.
Anglesey is being developed under the banner Energy Island, with plans for the Wylfa Newydd nuclear investment and a range of renewable projects at its centre.
The island's council says the programme could contribute nearly £12 billion to the wider economy of north Wales over the next 15 years and describes it as a "once in a generation" opportunity to boost the economy.
First Minister Carwyn Jones, said: "This investment will not only help create greener and more efficient sources of energy, but will also create jobs and vital opportunities for growth in north Wales."
Anders Jansson, chief executive of Minesto, said: "Establishing Minesto UK Headquarters in north Wales is a strategic decision that can make Wales a global leader within marine energy."
A public exhibition is being held on Thursday 21 May at Holyhead Town Hall from 10:00-20:00 BST.
The latest proposal comes eight months after a £70m tidal energy project off Anglesey was suspended.
But last month there was new hope of reviving the scheme off The Skerries. to the north-west of the the island.