Anglesey charity Agoriad hit by theft of up to 24 bikes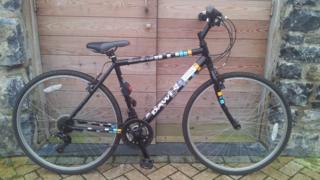 Police are hunting thieves who have pedalled away with up to 24 bicycles from an Anglesey disability charity.
The Agoriad group discovered the theft this week at a container in a compound in Holyhead.
Police said all the bikes were Dawes Discovery trail cycle models.
"Sadly the charity have now lost out following the theft of these bicycles, so I am calling on people with any information to contact us to help," said PC Adrian Williams.
"The bikes are distinctive and I would urge anyone who knows where they are being hidden or offered for sale to do the decent and honourable thing and contact us."
Police said the theft could have occurred any time since January, when the container had last been checked.