Fresh Gwynedd care home concerns highlighted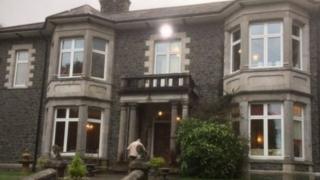 A closed care home in Gwynedd posed a "risk of harm" to the life of patients, an inspectors' report has revealed.
The Plas y Bryn home at Bontnewydd near Caernarfon was shut in January.
North Wales Police said at the time it was investigating allegations of neglect and poor standards.
The Care and Social Services Inspectorate for Wales (CSSIW) banned the home from admitting new patients last year, before it closed.
"We found that people remain at risk of harm to their life, health and wellbeing because insufficient action has been taken by the registered provider to ensure that staff are skilled and knowledgeable about how to meet people's needs," said the latest report findings, following inspections in November 2015.
"We found new evidence to suggest continued failures by the registered provider to ensure that people's health and welfare is supported and promoted."
The report by CSSIW was the fourth highly critical inspection of the home.
"Plas y Bryn Ltd continues to be recorded as a service of concern," concluded the final inspection.
Police confirmed that inquiries into the former care home are continuing.