Conwy seagull committee set up to tackle pest birds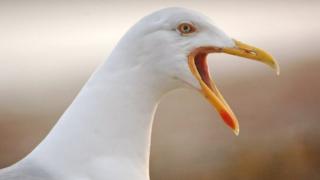 Problems with seagulls in Conwy are to be tackled by a dedicated committee which is being created.
Llandudno and Conwy Quay has seen a growth in numbers of herring gulls feeding on waste food.
Councillors said the issue was people "deliberately feeding" the birds and the issue had got "out of hand".
Experts will advise the authority while a report said it would cost about £50,000 to erect signage and launch an education campaign..
Speaking at a scrutiny committee meeting councillor Adrian Tansley said: "I have also noticed that the birds have started nesting in chimney pots.
"The kids won't have a chance because they will start dive-bombing them.
"It has got a bit out of hand. The seagulls are coming in droves. I have lived in the area for 69 years and I have never seen it so bad."
Graeme Cotterill from North Wales Wildlife Trust said the public needs to think before feeding gulls food such as chips and ice cream, as this makes the problem worse.
He added: "People should also remember that seagulls are protected under the Wildlife and Countryside Act 1981 so it is an offence to deliberately harm them."