Drug-driver caught speeding at 130mph on A55 in Bangor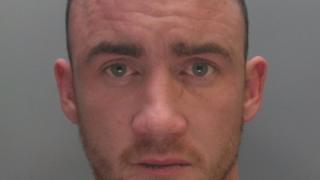 A cocaine-using drink-driver has been jailed for nine months for speeding at 130mph (209km/h) on the A55 in Gwynedd.
Sean Williams, 27, crashed through roadwork cones into a closed lane, went the wrong way around a roundabout and jumped from his still-moving Mazda.
Caernarfon Crown Court heard police Tasered him in order to arrest him.
Williams, of Bangor, admitted dangerous driving, possessing a drug, failing to stop for, resisting police and drink and drug driving.
Judge Gaynor Lloyd told Williams: "It's an utter fluke no-one was injured by your actions and more damage wasn't caused."
He was also banned from driving for three years.