'Bara brith' World War One exhibition on Anglesey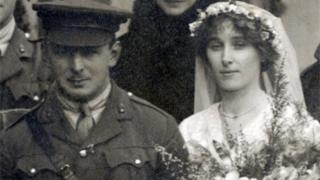 A project on Anglesey will tell the stories of the island's residents during World War One.
The Bara Brith a Menyn Cartref exhibition takes its name from a letter a soldier wrote about what he missed - bara brith and homemade butter.
The letter from Fred Dargie to his wife Doris, and other items, will be on display at Oriel Ynys Mon from 16 July.
School pupils and an Age Well group will work on art and writing inspired by the objects on display.
Anglesey Archives and Oriel Ynys Mon received a £6,300 grant from the Heritage Lottery Fund for the project.