New police boss promises to tackle domestic violence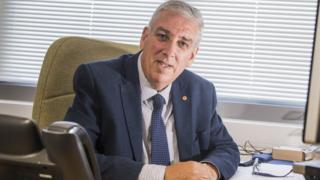 A new police boss has said he will make tackling domestic violence a top priority.
Former police inspector Arfon Jones, became the second North Wales Police and Crime Commissioner (PCC), after winning last week's election, succeeding Winston Roddick.
He is in charge of a £147m budget.
Mr Jones also wants to see youth justice matters devolved and he wants officers to wear body video cameras to collect evidence.
Mr Jones, a member of Wrexham council, added: "Domestic violence is a hideous crime and one I feel passionately about.
"There's an emotional cost, there's a cost to society and there's a financial cost and I think it's a responsibility to us all."