Cat from Groeslon 'with eyes like Bowie' stars in Vogue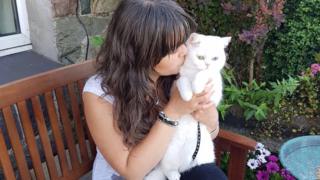 A supermodel cat with "eyes like David Bowie" will star in the iconic fashion magazine, Vogue.
Sazsa Silvas, who shares her time between London and Groeslon, Gwynedd, travels everywhere with her "white ball of fluff" Starina Esperanza Silvaz.
Starina was scouted by an animal modelling agency in a pet shop and snapped up.
She is due to appear in a double-page spread in the middle of the Chinese edition of the magazine.
Ms Silvas bought the cat when her mother, who died a year ago, was diagnosed with terminal cancer.
"She is a white ball of fluff with one green eye and one blue eye and the pinkest nose you've ever seen," Ms Silvas told BBC Radio Wales' Good Evening Wales.
"We called her Starina because we knew she was going to be a diva, just instinctively, just took one look at her.
"Then Esperanza because it's hope in Spanish, and my mum was going through chemotherapy at the time so we thought she could bring us a little bit of hope."
'Got me through'
"We just saw this little face, and met her on Skype, and just fell in love with her," Ms Silvas added.
"She has been very important to me since I lost my mum a year ago. She's the thing that got me through."
Ms Silvas said she put Starina in her handbag because she did not have a carrier - and she seemed happy to stay there and be carried around.
"I think she prefers Wales [to London], probably because we have a bit more outdoor life here. She has been on the tube in London," Ms Silvas said.
"She's a proper travelling little lady."