Woman floats out to Anglesey sea 'on inflatable chair'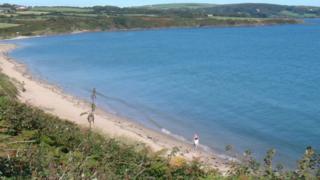 A woman was rescued off the coast of Anglesey after being blown out to sea on what was reported to be an inflatable chair.
Holyhead coastguard said it received a call from Lligwy beach near Moelfre at about 17:10 BST on Thursday.
The woman was reported to be several hundred metres off-shore when the alarm was raised.
A kayaker paddled out to her rescue and later towed the woman on the inflatable back to shore.
No medical treatment was required.