RSPCA rescues bird of prey trapped in wire fence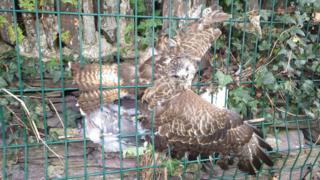 A buzzard has been rescued after becoming trapped between fencing and a wall in Gwynedd.
The bird's head and wings became stuck in the wire fence in Bethesda while it was chasing a wood pigeon.
RSPCA Inspector Mike Pugh, who freed the animal, said: "The buzzard was feisty, but luckily, had not had much feather damage.
"I released the bird back to the wild where he belongs straight away."