Festival no.6: Car park moved to avoid flooding repeat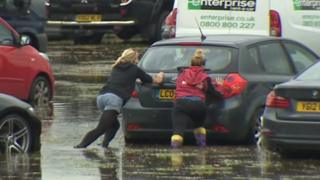 Organisers of a north Wales festival have "worked hard" to avoid flooding this year after hundreds of cars were left stranded last year.
Heavy showers are forecast for Portmeirion in Gwynedd during Festival no.6, which takes place until Sunday.
Vehicles were stuck for hours at the 2016 event and people were forced to stay at a leisure centre after the heavy rain.
Organisers have moved the park and ride facilities to avoid problems this year.
A spokeswoman for the festival said: "We have worked hard to ensure our new park and ride home is fully sustainable towards any adverse weather conditions, should they arise.
"After months of researching various locations in the surrounding areas of Portmeirion, our park and ride service has been relocated to a working farm called Llwyn Mafon Uchaf.
"The new location is situated on high, well-drained land and we have worked closely with the land owners of the new site."
According to the Met Office showers, some heavy and blustery, are forecast from Friday until Monday, along with wind and a risk of gales.