Body in Wales to be exhumed in missing woman search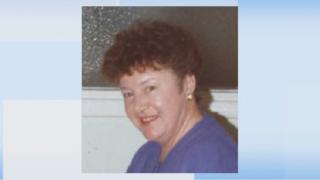 Remains will be exhumed to find out if they are those of a woman who vanished in Ireland 23 years ago.
The family of Pauline Finlay, who disappeared in County Wexford, have been told her remains may have been buried in a grave in Wales.
An unidentified body was found on a beach on Anglesey in 1994.
Caernarfon coroner Dewi Pritchard-Jones said his predecessor and police at the time failed to identify the remains and they were buried.
The cause of death was not found and an open verdict was recorded.
The unidentified remains washed up on Cable Bay, near Holyhead, on 31 October 1994.
A review of old cases by North Wales Police and police in the Irish Republic led to the conclusion they were probably the remains of Pauline Finlay, 49.
Mr Pritchard-Jones said she vanished while walking her dog along a beach near Wicklow.
The High Court in London in October agreed the inquest should be re-opened.
On Tuesday, Mr Pritchard-Jones said he had issued an exhumation order and there was DNA information.
"The human remains, if confirmed to be those of Mrs Finlay, will be sent to Ireland and an Irish coroner will deal with this matter and an Irish death certificate issued," he said.
"The exhumation will take place shortly."
North Wales Police has been using DNA tests in a bid to solve 17 separate cold cases of unidentified human remains found in the area from 1968 to 2011.