Plas Newydd mansion shuts some rooms for renovation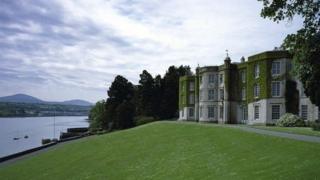 Parts of the historical Plas Newydd mansion on Anglesey will close for renovations.
The National Trust hopes to complete the project, the first renovation of the mansion in 80 years, by 2020.
The work requires extensive work, including updating "miles of pipes and electrical cables" first put down in the 1930s.
The renovations have meant there will be no Christmas fair at the mansion this year, with themed rooms instead.
Conservation manager Richard Pennington explained the challenges: "Things were put in in the 1930s but we need to get them up to modern standards.
"One of the biggest challenges is the size of the building - and also, it's a museum as well as a house so we have to look after the collection as well."
A mural by artist Rex Whistler commissioned during the last renovation is one of the biggest concerns and there is no easy way to protect it.
Iwan Ellis-Roberts, of the National Trust, said: "It's one of the biggest murals in Europe, it's 58ft across, with all sorts of pictures of different places in the world - some of them real and some of them from the artist's own imagination.
"What's nice about it is that there are little stories everywhere that are linked to the Paget family.
"For example, there's a picture of the 7th Marquis [of Anglesey] fishing as a child, and Whistler didn't give him a rod because he never caught anything anyway. The mural is full of little family jokes like that.
"We don't have the funds to commission something similar this time round. The public's money is spent on the upkeep of places like this. But it also gives us a chance to look at the house's history and show something new to the public."
Many rooms of the mansion will remain open.
Mr Ellis-Roberts added: "We've had to shut some rooms to carry out the work but some are still open and we've tried to create the feeling of a family Christmas in those rooms. It's a chance to show what kind of family lived here and what sort of Christmas they had."
Plas Newydd's annual Christmas Craft and Food Fair, which drew 6,000 visitors last year, will not be taking place due to the renovation work.
Mr Ellis-Roberts admitted the decision was not taken lightly: "It's something we've worked hard to build on over the years.
"But at the end of the day, the preservation work is most important."