Britannia Bridge crash van driver jailed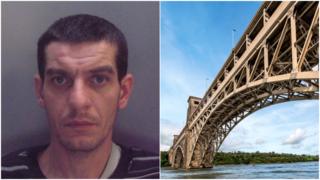 A van driver who had just 10 hours sleep while driving for two days from Poland has been jailed after crashing into a car on the Britannia Bridge.
It left the driver of the Skoda car he hit with life-threatening injuries.
Zbigniew Mularczyk, 39, admitted dangerous driving following the smash on the A55 bridge linking Anglesey and the mainland on 30 November.
He was given a 16-month prison sentence and banned from driving in the UK for 32 months.
The court heard that Mularczyk had left Poland in his Fiat box van 48 hours before the crash, driving to Dortmund in Germany, on to England, and then to Nottingham, before heading towards Anglesey.
He had taken off his glasses to rub his eyes when he went on the wrong side of a central barrier on the bridge.
'Reckless'
"I have no doubt at all that you would have been tired and this would have contributed to the accident," said Judge Rhys Rowlands.
"In taking off your glasses and continuing to drive while tired there was a substantial risk of danger to yourself and other road users."
His 35-year-old victim suffered serious head injuries, and the court was told he remains housebound and it will take another 18 months before he makes a recovery.
Speaking after the sentencing, PC Eifion Jones from North Wales Police said: "The manner of Mularczyk's driving was reckless and irresponsible and he had no thought for that of other road users that night.
"I hope the sentence handed by the court will send out a very clear message that anyone convicted of such offences will be dealt with robustly."