Wylfa Newydd: Nuclear site could get wildlife areas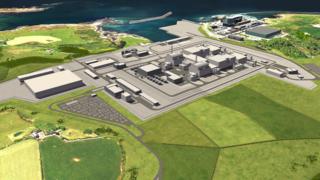 Views are being sought on the creation of ecological areas and wetland habitats to help reduce the possible effects of constructing a planned new nuclear power station.
Horizon Nuclear Power is consulting ahead of its main application to build £10bn Wylfa Newydd on Anglesey.
The company said it needed additional land to build the wetland and "ecological mitigation" areas.
The old Wylfa plant stopped generating electricity after 50 years in 2015.
Building could begin at the Wylfa Newydd site in 2020 if all the permissions are granted.
Sasha Davies, Horizon's head of strategic development in Wales, said: "These refinements to our proposals include helping to manage any impact on the ecology at and near our site, and is part of our fundamental commitment to be environmentally responsible for the lifetime of our project.
"As part of this, we've been working closely with Isle of Anglesey County Council and Natural Resources Wales on a proposal to create new areas of wetland on Anglesey, as well as improve an existing one.
"We believe that, together with two ecological areas next to site, these important measures will help protect and preserve Anglesey's wildlife as we build and operate Wylfa Newydd."
The consultation will run until 16 February.