Final go-ahead for Conwy four-weekly bin collection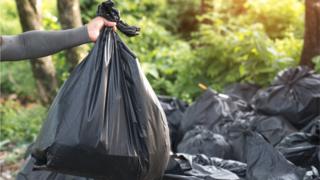 Conwy is to become the first area in Wales to have four-weekly bin collections.
The council's cabinet decided on Tuesday that a trial introduced in 2016 will be rolled out to all households by 2019.
It reverses a decision in December 2017 to stick with the trial for another year.
The scheme has proved controversial, with some councillors and residents claiming it is "unfair".
The year-long pilot scheme of once-a-month bin collections - the residual waste destined for landfill - was brought in to replace fortnightly collections in September 2016, in a bid to increase recycling.
At the same time, three weekly collections were introduced as standard for all other households.
The council's economy and place overview and scrutiny committee voted to scrap the four-weekly scheme in November and move all homes to the three-weekly collections.
But in December the council's cabinet went against this recommendation, instead deciding to continue the pilot on 10,900 homes while officials reviewed the situation.
That decision was called in by Labour councillors, who claimed the scheme created a "two-tier system" in the county.
The cabinet also decided to put extra measures in place to help residents recycle, including free collection of large items, free nappy bins for grandparents who look after children and bespoke collections for people who miss having their bin emptied if they are on holiday.
Reports by council officials had previously suggested that four-weekly collections would increase the amount of rubbish that was recycled and also save the council up to £390,000 per year.
Council leader Gareth Jones said: "What we decide today will have far-reaching consequences for the children of Conwy county and our children's children.
"We in Wales can be proud of our record on recycling, but time is not on our side - locally or globally. We have the opportunity to play our part in accelerating that change or stalling it."
But Conservative councillor Sam Rowlands said many residents felt the four-weekly collections were a "step too far".
"I represent people who are concerned they can't recycle enough," he said.
"These are people who are making a real effort; they're not people looking to fly tip."
No details were given on how the four-weekly collections would be phased in.