Pwllheli crash driver 'accidentally accelerated' into house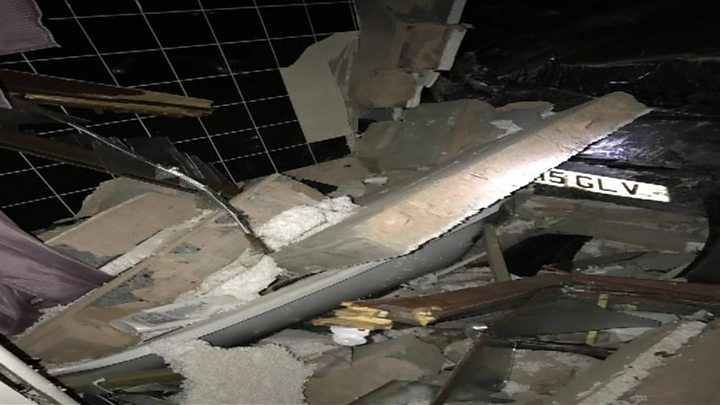 A driver who crashed into the first-floor bathroom of a house has spoken of his relief that nobody was hurt.
Geoff Ludden's car ended up embedded in property in Pwllheli, Gwynedd, in September.
The 69-year-old said the crash occurred because he unintentionally pressed the accelerator pedal of his automatic when he went to brake.
He admitted careless driving and received a three-month ban at Mold Magistrates' Court on Wednesday.
Mr Ludden was ordered to pay £365.
"I obviously regret the accident happened and the effect it might have had on other people," he told BBC Radio Wales' Good Morning Wales programme.
"It was 11 at night, I crashed into a wall (of the house). The lady of the house had just gone out of the bathroom fortunately. Her husband was thrown out of bed because of the impact."
Mr Ludden described how he was going "down a steep hill in the dark" and thought he was slowing down.
However, because his foot was on the accelerator as well, he was actually speeding up.
"I went through two barriers into a wall, looked down and there was a 20 foot drop below me," he added.
"I was suspended in the void between the alleyway and the house."
Mr Ludden said he was "covered in bruises" and "in shock" for days after and was grateful nobody was injured.