Ysgol Glan Gele 'cheese grater' playground closed to pupils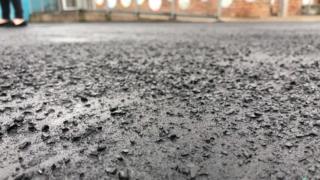 A resurfaced school playground deemed "too dangerous" and likened to a "cheese grater" has led to pupils being stopped from using it.
The yard at Ysgol Glan Gele, Abergele, was resurfaced over Easter because it had become cracked and uneven.
Chairman of governors John Maclennan said it appeared to have been laid with a "slurry" containing small chippings.
Conwy council said it was aware of the concerns and was working with the school and contractor.
Mr Maclennan said: "It's a type of surface used for non-slip pavements, bike tracks and so on.
"It is certainly not suitable for little children aged three to seven who are falling over all the time, developing their motor-skills.
"We decided it's just too dangerous. They could really hurt themselves."
He said children were currently only allowed on a smaller play area in small groups as it is not big enough for all pupils.
"There's nowhere for them to run around. They are having to stay in the hall, or in their classrooms," he added.
"I just can't understand why people would choose a rough surface like that for young children."
Mr Maclennan said governors contacted the council which said someone would look at the playground, but they have not been told when that will happen.
Meanwhile parents have taken to Twitter to complain about the condition of the playground.
Rebecca Miller tweeted the council saying: "Please provide a safe and suitable playground for the children @ysgolglangele , the new covering is so bad, dangerous and unsuitable that the children cannot go out to play for their own safety."
She attached a picture of a handwritten letter composed by her daughter, Naomi, six.
In it she says: "Please can you make our playground safe again so I can enjoy playing with my friends and not get hurt."
Another parent, Liam Hughes, likened the surface to a "cheese grater".