Vending machines to champion local produce in Gwynedd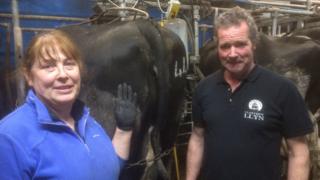 Locally sourced food and drink from north Wales is to be sold in vending machines as part of a six-month pilot scheme.
The new programme is recruiting farmers and producers to boost business by selling goods in "an innovative way".
Rural development organisation Arloesi Gwynedd Wledig will start the project in Gwynedd in June.
Rachel Roberts, from the scheme, hopes the initiative targets a new market of tourists in the area.
"It will be a new way of selling their produce direct to customers and a different innovative way of selling their produce," she said.
The vending machines will be tested in a couple of places to gauge interest.
Milk producers from Pwhelli, Sion and Nia Jones, are interested in seeing their product in the machines.
The couple produce bottled milk and already sell it to different local shops.
Mrs Jones said: "I think selling local goods in the vending machines is a very good idea.
"It will showcase local produce, and tourists in the area are looking for something different and local."