Bid to replace Gwynedd street lights with LED technology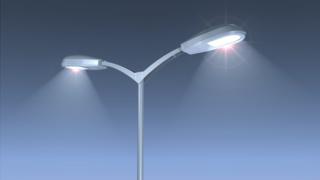 A North Wales council has applied for funding to upgrade thousands of street lights to make them more energy-efficient.
There are over 18,000 street lights in Gwynedd, with 10,200 already changed to LED lighting, which is cheaper to operate.
Gwynedd Council believes the upgrade could save it £185,000 a year in its electricity bills,
The lights will also result in less carbon emissions.
The council's cabinet has approved plans to ask the Welsh Government to fund the estimated £1.4m cost via its Green Growth scheme.
The Green Growth Wales fund backs initiatives such as renewable energy and waste schemes that help cut carbon emissions
LED lights have an expected lifespan of 20 years compared to two to five years for ones currently used in Gwynedd.
The council would be obliged to pay back the Welsh Government's investment, interest free, over a period of seven and a half years.
If approved, the council expects the scheme to have been completed by March 2022.